Let us return to the original problem.
A dog runs directly from point A to point B at a rate of 5 feet/second. The dog then runs directly from point B back to point A at a rate of 14 feet/second. What is the average velocity of the dog?

The total distance can be mathematically represented, even though the distance from points A to B is unknown. Algebra lets us label things using variables. So, we label the distance as 'd'. This means the total distance is d (one distance from A to B) + d (the distance from B back to A) or 2d.

Determining the time spent traveling is not as simple. We have to use the relationship between distance, rate, and time. Here is the calculation done for each part of the journey.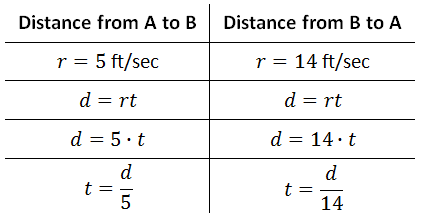 Now we can see the total time as the sum of those two individual times. We have to take the time it takes to go from A to B and add it to the time it takes to go from B to A, like so.

Returning to the definition of average velocity, we can put the total distance and total time together.

The rest of this is algebra, shown below.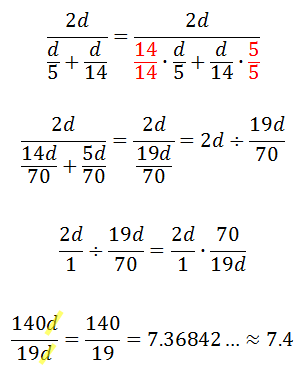 We can conclude the average velocity of the dog for the entire journey is approximately 7.4 ft/sec.
Now, try our quizmaster to check for understanding.

uiz: Average Velocity