To calculate the internal diagonal of a cube, we must carry out several steps. Those steps will be explained within an example.
Example: Determine the diagonal length of a cube that has an edge 5 feet long.
Our first step is to calculate the diagonal of a face, shown below as a red segment.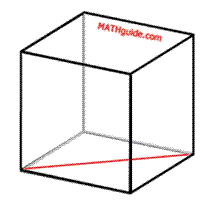 To determine this red length, we have to find the diagonal distance across a square. [All the faces are squares because the solid is a cube. Once a diagonal is drawn on a face, two congruent right trianges are created.]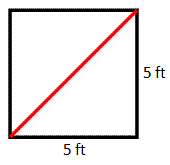 To find this distance, we must use the Pythagorean Theorem. If we let the red diagonal be represented with a 'c,' the mathematics looks like this.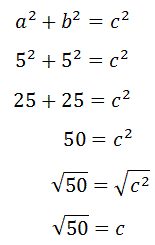 Next, we should examine the internal diagonal (marked blue) of the cube in relation to the diagonal of the face (marked red), below.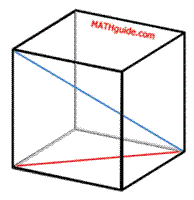 To calculate the length of the internal diagonal, we need to use another right triangle. We will use the edge of the cube as a leg, the diagonal of the face as another leg, and the internal diagonal as a hypotenuse. Here is that right triangle with its dimensions.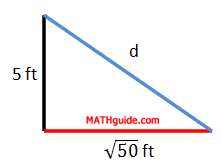 Again, we have to utilize the Pythagorean Theorem to solve for the internal diagonal, which has been marked with a 'd' above.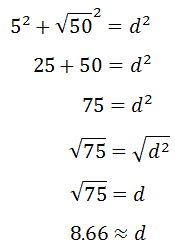 Therefore, the length of the internal diagonal is approximately 8.66 feet in length.

ideo: Calculating the Diagonal Length of a Cube


uiz: Diagonal of a Cube