When we add lists of numbers, each of those lists of numbers is called a series.
For instance, if a frog moves 12 inches in the first minute, 15 inches in the next minute, and 18 inches in the third minute and follows this pattern for 20 minutes, we may want to know how much distance the frog travels for those 20 minutes. The series would look like this.

This series does not continue on forever. It ends at its 20th number.
You may recognize this to be an arithmetic series (see Arithmetic Sequences and Series) because the common difference is equal to 3.
We could find the 20th term, once we gain a formula for the nth term. The formula for the nth term is...

...where a1 is the first term and 'd' stands for the common difference. So our general term is...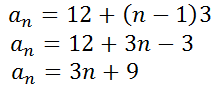 Now we can find the last term, the 20th term of this series.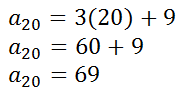 Now we know that our series looks more like this.

In our next section, we will see how this series can be expressed in sigma notation.