The conclusion within the last section gave us a great gift of knowledge for dealing with a harder type of problem, but what if the coefficients were not equal?
Here is the general case:

To solve this, we have to realize that the coefficient in the numerator is the driving force that will propel us forward. So, we will multiply the top of the fraction and the bottom of the fraction by the a-value, which is permitted for our fraction since the a-value is not equal to zero.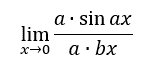 We can multiply in any order, so we can switch the order of multiplication in the denominator.

Now, we need to be creative with our representation of the problem by separating the fraction into a product of two fractions.

Constants do not affect limits, which gives us this.

We already know the value of that limit. We know it is equal to one.

By using several logical steps, we now know this to be true.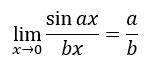 After seeing how to solve the general case, you can determine if you understand the lesson by trying a specific case with the quizmaster below.