The leading number in front of the equation informs us of the concavity of the parabola. Here are some examples.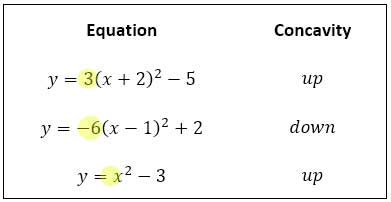 The last parabola is concave up because the coefficient of the x2-term is positive. If there is no coefficient in algebra, we can imagine a one being there, like this: x2 = 1x2.
To further make sure the previous characteristics are understood, here is a problem.
Problem
"Write the equation of a parabola that has a vertex at (2,5) and is concave down."
The concavity of the parabola tells us what type of number to place as a leading number within the equation. Since the parabola is concave down, a negative number has to be the leading number. Any leading number will work.
The vertex (2,5) tells us what to use for the other numbers. Since the x-value of the vertex is 2, the factor must be the opposite, (x - 2). The y-value of the vertex is 5; so, the trailing number of the equation must be 5.
Putting it all together, we get...

This is not the only possible answer. The leading number must be negative, but it does not have to be any special negative value. In fact, all the following parabolas (and more) are solutions to the problem.