Dividing complex numbers is a bit technical. To deal with it, we have to deal with something called conjugates.
A conjugate of a complex number is gained by taking the opposite of the imaginary part of a complex number. Here is a table that has complex numbers and their corresponding conjugates.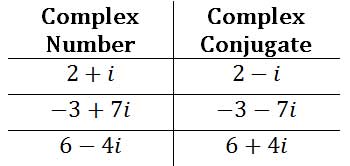 When conjugates are multiplied together, something interesting happens. Here is an example of two complex conjugates and we are going to multiply them.

Here is a table already set up and filled.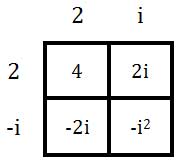 Here are the terms from the table.

Now, we will simplify the expression.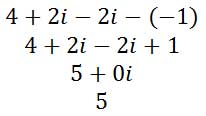 Every time we multiply complex conjugates, the imaginary term cancels and we obtain a real answer. We will make use of this interesting phenomenon when we divide complex numbers.
Here is an example of a division problem.

The same problem can be written vertically, like a fraction.

To divide these complex umbers, we are going to employ a slight trick. The only way to clean up this division problem is to cancel the imaginary numbers in the denominator. We will do so by multiplying the denominator by its complex conjugate, 3 – 2i, as follows.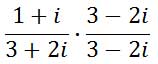 We multiplied the numerator by the same amount so as not to alter the value of the original fraction.
When multiplying fractions, multiply left-to-right.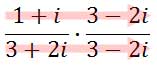 To multiply, two tables need to be set up – one for multiplying the numerators and the other for multiplying the denominators, like so.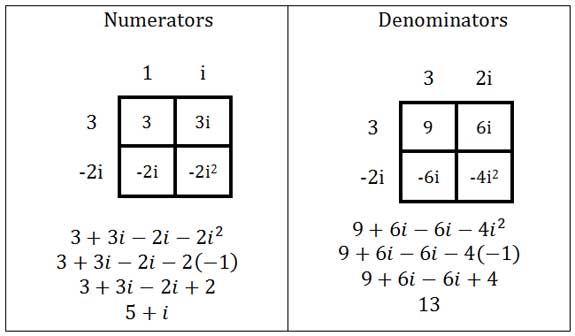 Let's now place these expressions in a fraction where they belong.

Last, we need to divide the entire numerator by 13.

Watch our video on this lesson.

ideo: Complex Numbers: Division


uiz: Dividing Complex Numbers