Let us examine a single note. Various notes have specific wavelengths. For instance, the note A
2
, has a wavelength approximately equal to 320 cm. A graph of A
2
would look like this.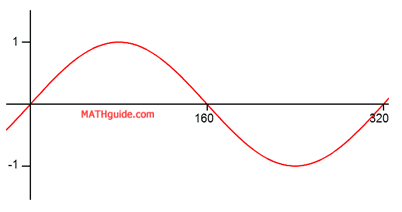 The horizontal axis is in centimeters. The vertical axis is less important because relates to volume. Whether the note is soft or loud is unimportant because it is the note that is the thrust of this lesson.
If we wanted to determine the equation of this note, we will use a sine function. We will use the sine function because the wave of the graph that is shown passes through the origin. [We could as easily use a cosine function for this purpose as it would also demonstrate an equation of the same musical note.]
Recall that the period of a sinusoid has this formula (see our lesson Graphing Sine, Cosine, and Tangent: Calculations for more details).

To determine the b-value of the equation, we must replace the period in the equation with 320 and then solve this equation.

To solve it, cross-multiply.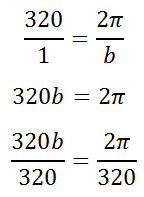 Now, we can reduce the fraction on the right side.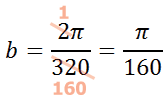 So, we can replace the b-value in the equation with π/160, like so.


ideo: Sound Waves to Sine Waves


uiz: Equation of a Musical Note