Here is a cosine function we will graph.

The a-value is the number in front of the sine function, which is 4. This makes the amplitude equal to |4| or 4. The graph of the function has a maximum y-value of 4 and a minimum y-value of -4.
The b-value is the number next to the x-term, which is 2. This means the period is 360 degrees divided by 2 or 180. So, the curve has a y-intercept at its maximum (0,4) (because it is a cosine curve) and it completes one cycle in 180 degrees.
This is the graph of the cosine curve.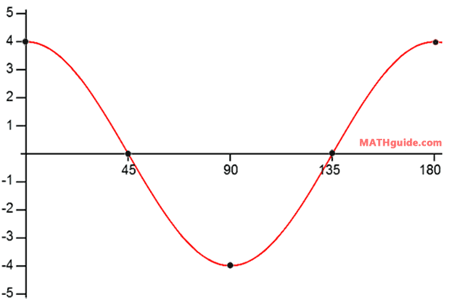 This particular interval of the curve is obtained by looking at the starting point (0,4) and the end point (180,4). The domain (the x-values) of this cycle go from 0 to 180. So, we write this interval as [0,180].
This video will demonstrate how to graph a different cosine function with two parameters: amplitude and period.

ideo: Graphing Cosine: Amplitude and Period


uiz: Graphing Sine & Cosine: Amplitude and Period