An inscribed angle is an angle that has its vertex on a circle and its sides are chords of the same circle. An inscribed angle can be seen here.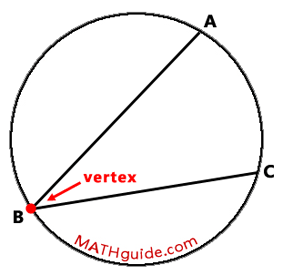 The diagram above shows inscribed angle ABC. The vertex of the angle, point-B, rests on the circle. The sides of the angle are chord AB and chord BC. The arc intercepted by the angle is arc AC.
Within the next section, we will examine the relationship between an inscribed angle and its arc.