The Monty Hall problem is well known to this day among game show watchers and those who dabble in probability. Here is a quick explanation of the problem:
Monty would present a contestant with three doors. Behind one of the three doors was a great prize, like a beautiful sports car, a tall stack of cash, or an expensive vacation. Behind the other two doors were bad prizes, called 'zonks.' Zonks could be goats, a grown man dressed as a baby, or some other bad prize.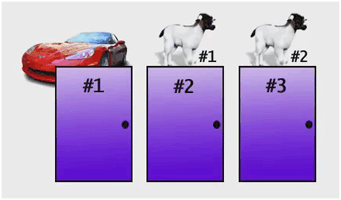 Once a contestant chose a door, Monty revealed a zonk behind one of the unchosen doors. He would then ask the contestant if he or she wanted to stick with the original choice or choose the other unopened door.
The question around this scenario is, "Is there an advantage with staying with the original choice, changing to the other unopened door, or is there no advantage either way one chooses?"
This problem captured the interest of several well-known thinkers, some of which were incorrect about the mathematics!