Use these examples to learn more about the calculation process.
Example 1: Find a unit vector in the direction of w = <-4,2>.
The first calculation is to determine the magnitude of <-4,2>, which is its length. For that we could first sketch the vector, like so.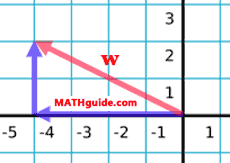 The magnitude is the length of the vector or the hypotenuse shown in the diagram above. Using the Pythagorean Theorem, we get this.

Now all we need to do is to divide the components of the vector by its magnitude to get the unit vector. This is written mathematically like so.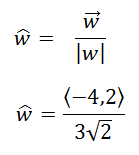 We will divide the components accordingly.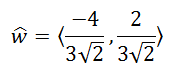 Using a calculator, we get this decimal version, rounded to the nearest hundredth.


uiz: Unit Vectors
---
Example 2: Find a unit vector in the direction of v = <3,-4>. For this example, less work will be shown. Nevertheless, let us first determine the length of the vector. The Pythagorean Theorem, yields this.

Since the magnitude of the vector is equal to 5, we need to divide the components by 5. Here is the final answer.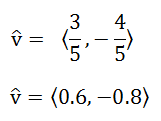 uiz:
Unit Vectors