The last section explained the logistics of combining two vectors. Let us examine a real world problem.
Kim and Noah decide to move a large weight by tying ropes to it and pulling it. Kim's rope is at a 130 degree angle and she pulls at 30 Newtons. Noah's rope is at 65 degrees and he pulls with a 40 Newton strength. If we place these two forces together, what is the resultant force on the weight?
First, we could use a diagram.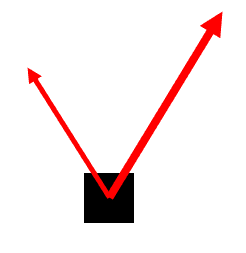 Next, we need to convert their forces to horizontal and vertical components. Let's use k for Kim's vector and n for Noah's vector.
k = <30, 130o> = <30cos130o, 30sin130o> = <-19.3, 23.0>.
n = <40, 65o> = <40cos65o, 40sin65o> = <16.9, 36.3>.
Now, we add the vectors by combining their respective parts, horizontal with horizontal components and vertical with vertical components.
k + n = <-19.3, 23.0> + <16.9, 36.3> = <-19.3 + 16.9, 23.0 + 36.3>
k + n = <-2.4, 59.3>
If the magnitude is needed, we utilize the Pythagorean Theorem, like so.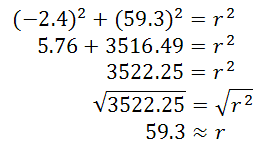 If we require a direction, we can calculate the reference angle using the tangent function, like so.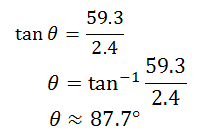 This means the vector has a traditional angle of roughly 180 - 88 degrees or 92 degrees. So, the resultant vector can be written in either of these two forms:
k + n = <-2.4, 59.3> or
k + n = <59.3, 92.3o>
This means the resultant vector is slightly past 90 degrees and it is about 50% greater in length than Noah's vector. The resultant vector (in blue) has been drawn in the diagram below.