If a cube with sides of unit 1 were to be doubled in length, width, and height, would the resulting cube be twice the volume as the original cube?
Here is a cube. Each edge has a length equal to 1 unit.

If we double all of its dimensions, we would gain a larger cube. Each edge would have a length equal to 2 units, like this cube.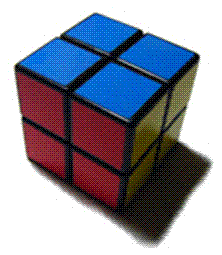 Now, we need to determine their volumes to compare them. Remember, volume is a measure of unit cubes that a solid occupies.
The small cube is a single cube. It has a volume equal to 1 u3.
The larger cube has four cubes on top and four cubes on the bottom. That is a total of eight cubes or 8 u3.
Let us examine their volumes side-by-side in this table.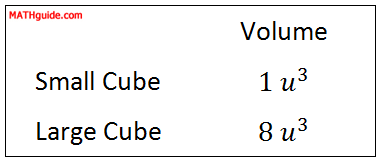 We can see that the larger volume is not double the volume of the small cube. The larger cube is 8 times the volume of the smaller cube. Doubling the length of a cube does not double the volume.
The next section will provide a detailed mathematical relation between ratios of lengths and ratios of volumes between similar solids.