The first type of complicated proportion leads to quadratic equations. Before progressing, you will need to know how to solve quadratic equations. Review this lesson, if necessary, before progressing.

esson: Solving Quadratic Equations
Review this example, which will demonstrate how to solve complicated proportions.
Example: Solve this proportion.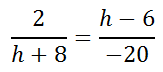 Like the problem in the previous section (see Solving Complicated Proportions), we can use the cross-products to begin on our journey to solve for the h-value.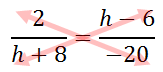 Here are those cross-products.

Multiply the two binomials. A multiplication table is best here (see Multiplying Polynomials for help).

Add 40 to both sides of the equation.

Now, factor the trinomial (see Factoring Trinomials for help).

Next, we set the factors equal to zero (see for help).

Last, we solve each equation separately to gain two solutions.

Note, be careful to look at the denominators of our original problem. We have to be careful not to get a zero in a denominator because zero denominators are illogical and therefore unacceptable.
If we substitute h=-4 into the original problem, the denominator is not equal to zero, making it a possible solution. For the same reason, h=2 is another acceptable solution.
This video will inform you as to how to solve this type of complicated proportion.

ideo: Solving Complicated Proportions 2
Try this interactive quizmaster to determine if you digested the lesson above.

uiz: Proportions 3