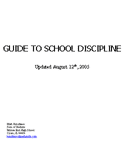 Click Image for
Word Document
It is clear that teachers who utilize a myriad of classroom strategies will be able to stimulate students and be successful in the classroom. This tutorial will provide teachers with a number of research driven strategies and practical ideas to institute an environment conducive to learning. It will also provide educational leaders a framework to build a successful organization.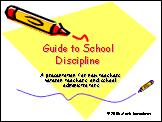 Click Image for
PowerPoint Document
Follow up information will be given to invite further investigation and feedback.
The information within this tutorial is available as Word and PowerPoint files, named Guide to School Discipline (Karadimos, 2005).