When solving linear equations of this form, we must carefully simplify the equation using a special two-step order. The term that is either adding to or subtracting from the variable must be canceled first by doing the opposite, otherwise known as the inverse operation. Let's take a look at this example.

To solve for "x," we have to do the reverse order of operations. The subtraction by five can be undone by doing the opposite. We must add five to both sides.
This simplifies accordingly.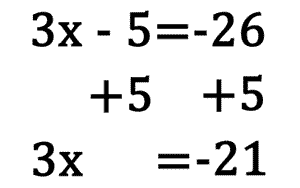 The next step involves cancelling the number next to the variable, and that number is called the coefficient. If the variable is being multiplied by a number, then we divide both sides of the equation by that number. If the variable is being divided by a number, then we multiply both sides of the equation by that number. Performing this step allows us to cancel the coefficient. In order to finish up our example, let's perform the last step. We must divide both sides by 3.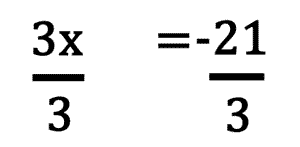 The solution is...

A nice fact about solving linear equations is that the solutions can be checked. The numeric solution is substituted into the original problem. Then the order of operations is used to simplify the remaining solution. Once simplified, both sides of the remaining equation should be equal to each other if the original answer is correct.
Using our example above, we can see that our solution, x = -7 is correct because it checks. Substituting it into the original equation yields...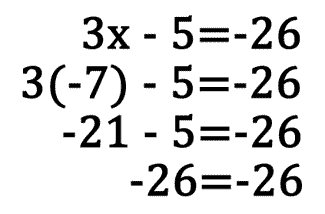 Here is another example. -4x + 1 = 21. First we must cancel the addition by 1 by subtracting 1 from both sides. Next, divide both sides by -4. This allows us to get the solution, x = -5.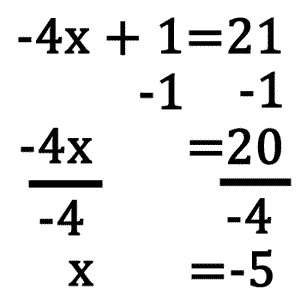 Upon checking we can see that -4 times -5 plus 1 is in fact 21. Therefore, x = -5 is the correct solution.

ideo: Solving Two Step Equations


uizmaster: Two-Step Equations


uizmaster: Solving Linear Equations with Help