The substitution method is best used when a coefficient on a variable is equal to one. This is because will be simple to get a variable alone and proceed with this method. For instance, this system of equations has a variable that has a coefficient of one.

"Y" in the second equation has a coefficient of one. This will allow us to get the "y" variable alone without much effort. Simply add "3x" to both sides of the equation.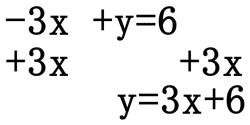 Now that we have an equation solved for "y," we can now substitute it within the first equation. We will do this by replacing the "y" with "3x+6."

We have an equation with one variable, which will allow us to use basic algebra techniques to solve for "x," the remaining variable.

Subtract 18 from both sides, then divide both sides by 4 to get "x" alone.

To solve for "y," substitute for "x" into the equation "y = 3x + 10" as such.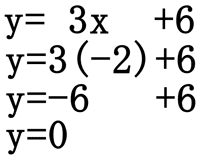 Since x = -2 and y = 0, the two lines intersect at (-2, 0).
If it becomes difficult to solve for a variable in a system of equations, the multiplication/addition method or linear combination method may be a better method to use. The substitution method is a valid method for all systems but the technique is cumbersome for many systems that have coefficients that are indivisible, called "relatively prime" to borrow terminology from number theory.

ideo: Solving Systems of Linear Equations: Substitution


uizmaster: Systems of Linear Equations


ctivity: Substitution Method