Here is our first example of a quadratic equation.

To get the equation equal to zero, subtract 6 from both sides. Doing so, we get...

For this example, a = 1, b = -1, and c = -6. We will substitute these values into the formula.

We can clean up the formula by taking the opposite of negative one and by cleaning up the expression underneath the radical. We can also simplify the denominator by multiplying two and one.

Simplifying further, we get...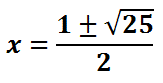 The square root of 25 is 5.

Once we get down to this step, we have to bifurcate (split into two). The "+" means we have two equations -- one equation with a plus and the other with a minus sign.


Now we will solve each separately.


Therefore, the two solutions are 3 and -2.



ideo: Solving Quadratic Equations: The Quadratic Formula


uiz: Solving Quadratic Equations