Before progressing with this section, make sure that you already understand how to add fractions that do not include variables. Review this lesson, first.

esson: Adding and Subtracting Fractions


Here are two rational expressions that we are going to add.

To add fractions, we first need a common denominator. To get an idea of what that common denominator can be, let's look at multiples of 4 and 7.

You can see that the two denominators have a common multiple. That common multiple is 28.
To gain the common denominator, we will multiply the top and bottom of the first fraction by 7. We will multiply the top and bottom of the second fraction by 4.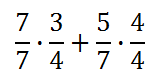 After performing the multiplication, this is what we get.

Now we can add the numerators, 21 and 20, to get 41. This takes us to our final answer.


ideo: Adding Rational Expressions


uiz: Rational Expressions: Addition
---
Here is a problem that involves two complex rational expressions, otherwise known as ratios or fractions. We are being asked to add them.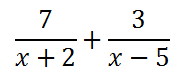 To start, we have to get a common denominator. The common denominator can be obtained by multiplying the two denominators x – 5 and x + 2 together. This means the denominator on the left needs to be multiplied by x – 5. The denominator on the right needs to be multiplied by x + 2.

Notice that I didn't just multiply the denominators by these factors. When multiplying the fraction, we also have to multiply the numerator by the same amount. In doing so, we are actually multiplying the fractions by "1"s. Multiplying by "1" does not change the value of the original fractions.


Now that we determined what factors to use to get a common denominator, we now have the job of actually multiplying the factors.

Doing the distributive property, we will multiply the factors in our new numerators:


So, our new problem will be transformed using those expressions within the new numerators.

Since the denominators are now both equal to each other, we can add them. Adding fractions with equal denominators requires us to add the numerators and keep the same denominator, like so.

Finally, we need to add like terms. This is now our final answer below.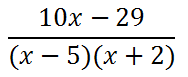 MATHguide offers a free quizmaster to test your skills and determine if you can apply them on a new problem. Use this link to use our Adding Rational Expressions quizmaster.

ideo: Adding Rational Expressions


uiz: Rational Expressions: Addition