Like all skills within the realm of mathematics, there is a process to follow.
For instance, determine what half of eight is. Intuitively, we know half of eight is four. This is what the mathematics looks like.

First, the word "of" refers to multiplication (most of the time).

Change the 8 to a fraction, 8 divided by 1.

Now, multiply straight across. Multiply numerator times numerator. Multiply denominator times denominator.

We know that 8/2 means 8 divided by 2. So, we continue.

Of course, this is a long way to go to take half of 8. However, it lets us know how to do more difficult problems.
As an alternative method, we could have reduced fractions before we multiplied across the two fractions. Look at this point in the problem.

We could have found a common factor between 8 and 2, which is 2. In other words, we can divide both the 8 and the 2 by 2, like so.

Now we can multiply across.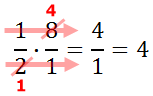 Reducing the problem makes it easier because the numbers are smaller, making the multiplication easier to perform.
The following sections will reveal more difficult problems.