A pilot looked out his window and saw an airport. He estimated it to be at a 7 degree angle of depression while his plane was at an altitude of 10,000 feet. How far was the plane from the airport at that moment?
we have to get a diagram in order to organize the information and to get a feel of the situaiton. We have to understant the term 'angle of depressin' to be able to place this into a diagram. It means the pilot is looking straight out to the horizon and then he slowly looks down. So, it's a downward angle out from a starting horizonal position. That is why the diagram below has a horizontal line at the top and the 7 degrees is below it.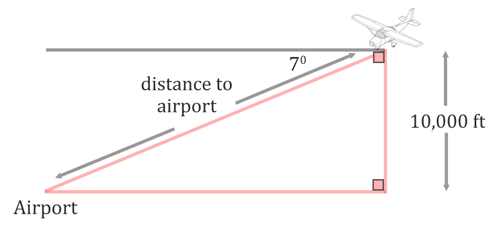 The term altitude is how high the plane is up in the sky, which is why it is represented as a vertical distance in the diagram. To determine the angle inside the triangle, we will take 7 degrees from 90 degrees. The result, 83 degrees, is the angle between the line of sight to the airport and the altitude, as is shown in the diagram below. We also need to mark the distance to the airport with a letter. The letter 'd' has been used.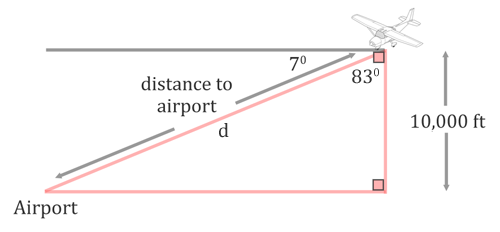 With respect to the 83 degree angle, the 10,000 altitude is the adjacent side.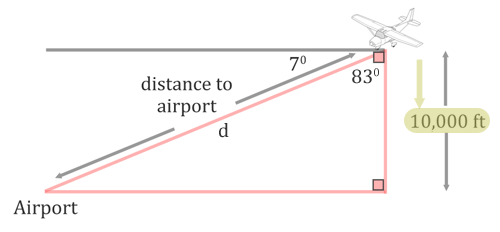 The distance to the airport is opposite the right angle. So, it is the hypotenuse.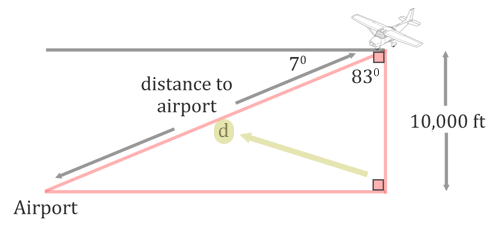 We are dealing with the adjacent side and the hypotenuse. This is why we will use the cosine function (see the three main trigonometric functions for details). We will set up a cosine ratio below.

To solve this equation, we will create a proportion by placing a one under the cosine function. Then, we will cross-multiply.

This is what the cross-products look like.

To isolate the variable 'd,' we need to divide both sides by cos 83.

This is the result of our equation.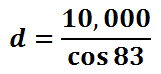 Pluggin this into a calculator, we get this value for 'd.'

This means the pilot and the plane were 82,055 feet away from the airport. Since every mile is 5,280 feet, the pilot is about 15.5 miles from the airport.
Now that you have examined this problem, view a related video and quiz.

ideo: Cosine Problem


uizmaster: Cosine Problem