For our next Law of Sines problem, let's take a look at this given information.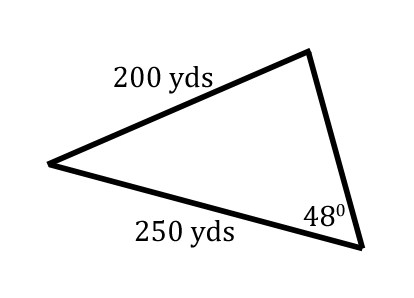 This stuation is ideal for The Law of Sines. We were given a side and it's opposite angle.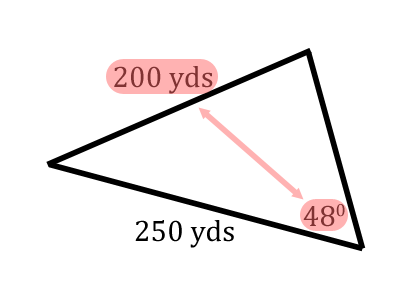 Since we also have another side, we can solve for another angle, which has been marked with a 'y' in this graphic.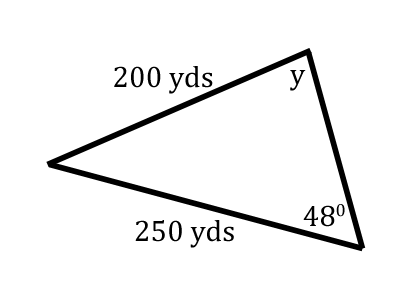 Angle-y rests opposite the 250, which is a known length of our triangle.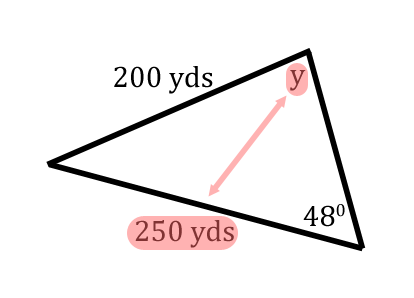 When there are two pairs of opposite sides and angle, we can utilize The Law of Sines. All we have to do now is label the triangle. The triangle below has been arbitrarily labeled with 'A,' 'B,' and 'C.' Any arrangement of 'A,' 'B,' and 'C' can be used; so, we'll stick with this arrangement of letters and angles.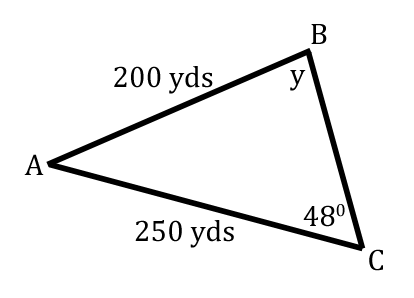 This is when we use The Law of Sines.

We can see that Angle-C is 48 and side-c is 200. Angle-B is unknown, but side-b is 250. So, we will place these values into the equation. Without knowing anything about side-a and angle-A, we'll use only the ratios that involve 'B' and 'C.'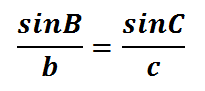 This is what the equation looks like once the appropriate numbers are plugged inside of it.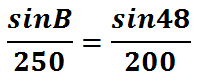 When we have two equal ratios, called a proportion, we need to cross-multiply to advance.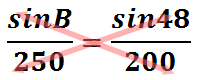 This is what the cross-products look like.

To continue solving for B, we have to divide both sides of the equation by 200.

Since we are multiplying and dividing by 200, we can cancel it to get sinB alone.

This is what we are left with, the sin of angle-B.

To cancel the sine of angle-B, we have to utilize the inverse sine function.

Therefore, this is what we need to plug into a calculator.

This is our final answer for angle-B.

Since we were trying to solve for variable-y, it is also 68.3 degrees.
Use this video and quiz to reinforce the lesson.

ideo: The Law of Sines: Find an Angle


uiz: Law of Sines: Find an Angle