Now that we know radians exist, we have to be able to convert between radians and degrees.
First, we need to review how units are converted. If we wanted to convert 6 feet into inches, we have to know the conversion between those units. We know that 12 inches is equal to 1 foot. So, we will multiply 6 feet by the correct unit conversion, like so.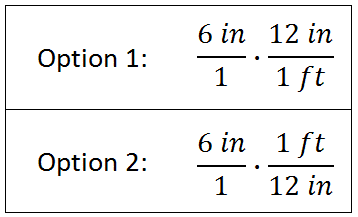 Option #2 is the preferred method, because units 'cancel,' unlike option #1. Here is the work.

Since this is the correct set-up for our problem, we will multiply.

We can use the same strategy for working with all conversions, including the conversion between radians and degrees. When we work with angles, we normally think of 360 degrees and 2π, like so.

So, we can form one of two conversion fractions: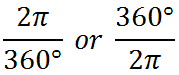 However, we can reduce those fractions, due to this fact:
This means mathematics textbooks routinely do not use 360 degrees and instead use the 180 degrees. This means we will use these conversion fractions: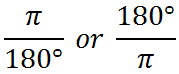 We need to look at a few problems in order to understand how this conversion works.
Example: Convert 120 degrees into radians.
We will take 120 degrees and multiply so that the angle measures 'cancel.'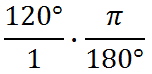 Next, we will multiply across.

Lastly, we will reduce the fraction for our final answer.

Try a video and a quiz to see if you can convert degrees to radians.

ideo: Converting Between Degrees and Radians


uiz: Degrees to Radians
Example: Convert 2/3 π into degrees.
We will multiply our radian angle so that the π 'cancels.'

Next, we will 'cancel,' and then multiply across.

We will finish cleaning up to gain our final answer.

Try a video and a quiz to see if you can convert radians to degrees.

ideo: Converting Between Degrees and Radians


uiz: Radians to Degrees