Graphing systems of linear inequalities is a little different than graphing systems of equations. Systems of equations has sophisticated techniques that does not require graphing the lines. On the other hand, graphing lines is a crucial part of graphing inequalities. Therefore, review our graphing lines lesson before proceeding.
Here is the example we will be working with for this section.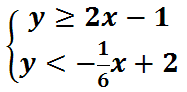 First, let's graph the equations. For the top equation, we start at the y-intercept, (0,-1), and go 2 up and 1 to the right. We get another point (1,1). For the bottom equation, we start at the y-intercept, (0,2), and go 1 down and 6 to the right. We get another point (6,1).
Next, we have to determine which line is shaded and which one is not. The line with the equality -- the top line -- is solid. This is what the picture should look like without the shading.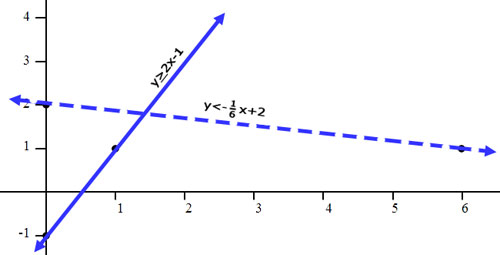 To shade, we need to figure out which side of each line to shade. Again, this is done with a test point. In both cases, we should use (0,0) because it is a point off of both lines. Here is the check for both lines.

In both cases, the result is true. Zero is greater than or equal to -1. Zero is less than 2. So, we need to shade on the side of the line that contains the origin, (0,0), for both lines.
For the line y > 2x - 1, we have to shade above the line. To help aid in the shading process, we can place small arrows next to the lines to help us remember where to shade. Note the black arrows in the picture below.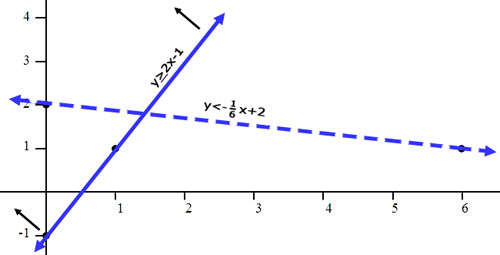 For the line y < (-1/6)x + 2, we have to shade below the line. Small arrows will be placed next to the line to show where we need to shade.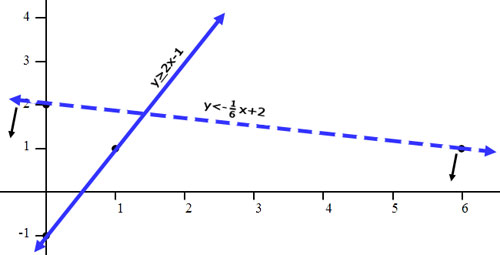 With all four arrows showing, we have an easier time discovering where to shade. The arrows will point to the correct section.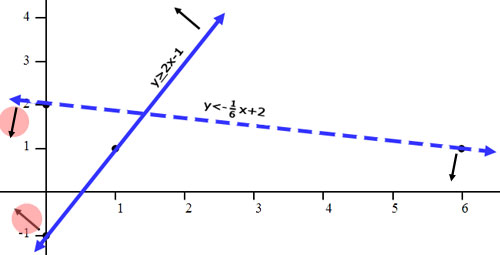 With four sections in the graph, we have to shade the correct section. The section we need to shade is the section where both arrows point. The picture below will help discover that section. Look at section 2. No arrows point to section 2; so, we will not shade there. Sections 1 and 3 only have one arrow point to it. We will not shade those sections as a result. Finally, we will notice how two arrows point to section 4, making it the correct section to shade.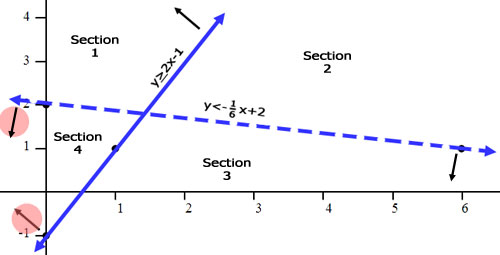 Here is the final graph.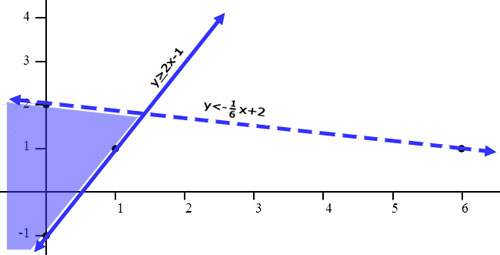 Watch our video on Graphing Systems of Inequalities.