We are going to take a look at a complete problem, from beginning to end. However, the steps will be slightly abbreviated. If you find any of the steps to be confusing, either review MATHguide's related lessons or look at the examples above.
Here is a problem.
"Hank makes two popular types of microchips for computers, type B18 and type F91. One of his customers needs at least 20 type-F chips per day. He cannot produce more than 200 microchips per day. Due to his supplier, the sum of twice the type-B chips and type-F chips cannot be more than 250. How many chips of each type must he sell to maximize his profit if he sells the type-B chips at $15 and type-F chips at $18?"
We need to take the problem, line by line to get the inequalities. We also need to declare that the x-value stands for type-B chips and the y-value stands for type-F chips.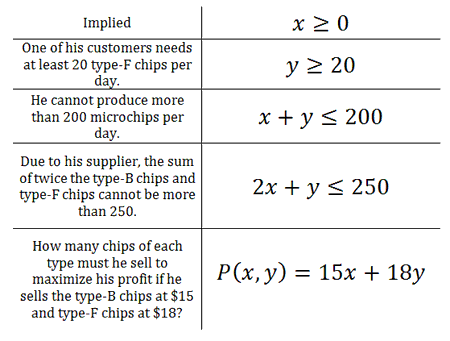 The implied inequality is present even though it has not been specifically mentioned in the problem. The reason it is there is because it is impossible to produce a negative number of chips.
Now, we are going to graph these inequalities on a coordinate plane. Here they are before being shaded.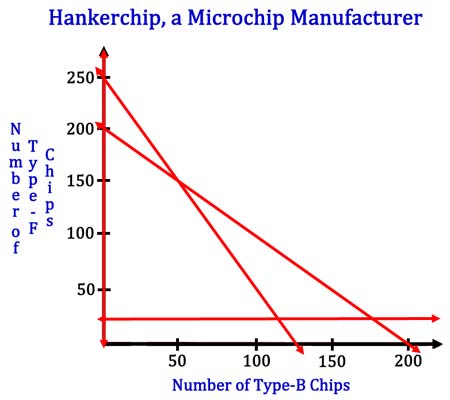 Here, the feasible region is now shown.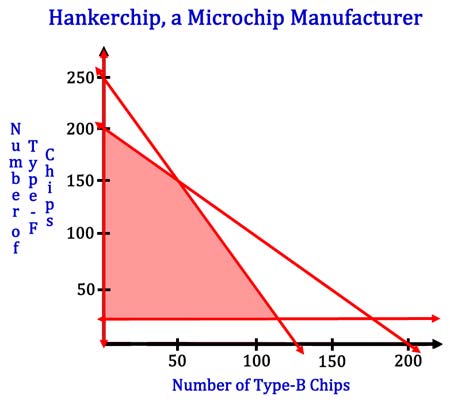 Next, we will locate the vertices of the feasible region. You may need to look over our section on Systems of Equations to understand how to locate points of intersection. Nevertheless, here are those vertices.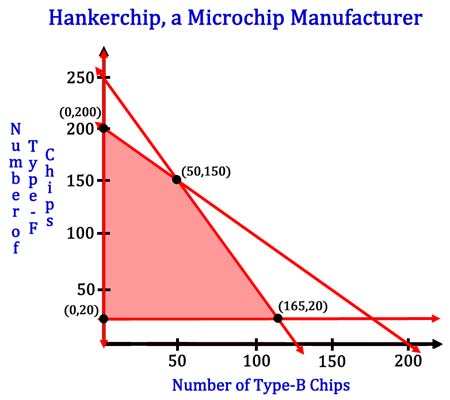 Now we will evaluate the profit function at each vertex with this profit function.


It is clear that the maximum value is from P(0,200), which is 3600. Since the x-values stand for type-B chips, it is evident that Hank needs to stop selling type-B chips and he needs to sell 200 type-F chips per day to maximize profits.