Since
chemistry basics
explained the connection between a solution's volume, concentration, and amount of acid, we will use a table to best organize the information found within a problem like this:
If 50 liters of 12% hydrochloric acid (HCl) is mixed with 80 liters of 40% hydrochloric acid, how much acid would result and what would be the concentration of the final solution?
First, this is the table that will be used to solve the problem.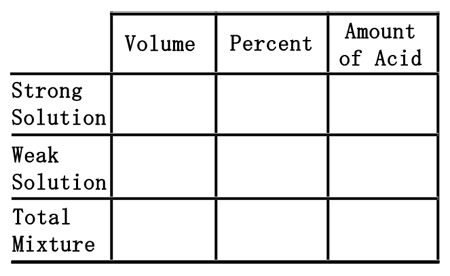 Second, we will divide the two mixtures into a strong acid, 80 liters of the 40% acid, and a weak acid, 50 liters of the 12% acid. We will place their volumes into the table in their respective places.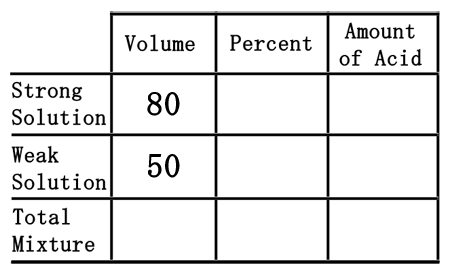 Third, we need to place the percent values into the table. To do so, we must first convert the percents into decimal numbers. Since percent means "out of 100," we will divide the percent numbers by 100. The strong solution percent of 40% will be 40 divided by 100, which is 0.40. The weak solution will be 12 divided by 100, or 0.12.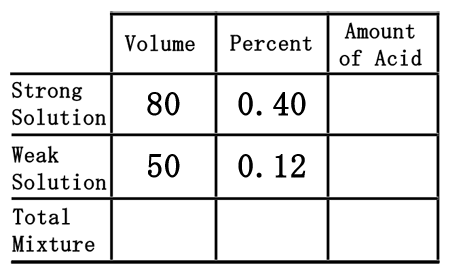 As was the case in the chemistry basics section, we have to multiply across the table to gain the amount of acid.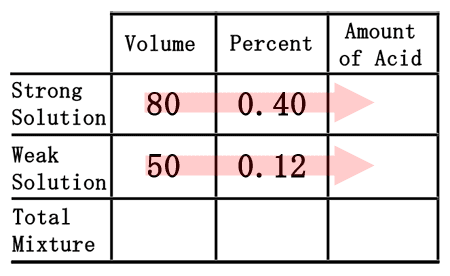 80 times 0.40 is 32. Likewise, 50 times 0.12 is 6. So, we will place these quantities into the table where they belong.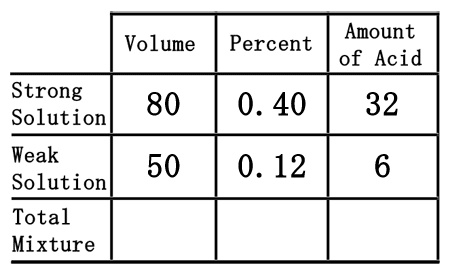 The last row of the table, the "total mixture" row, must now be filled in. We can fill in the "volume" and "amount of acid" portions because mixing the strong and weak acids will result with the total mixture. So, the total volume and the total acid is equal to the sum of its parts. This means we can get the numbers by simply adding down the table for those two columns.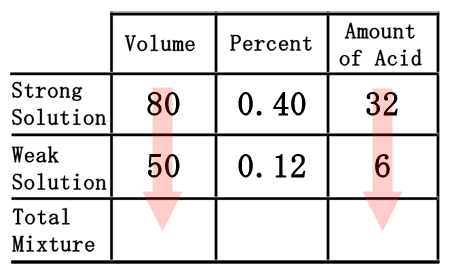 80 plus 50 is 130, for the volume. 32 plus 6 is 38, for the amount of acid. Now, we will place those numbers into the table.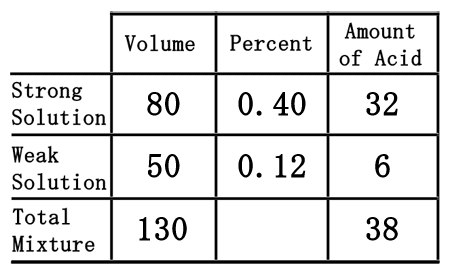 As we saw from the chemistry basics section, we get the amount of acid by multiplying volume times the percent (as a decimal number). Conversely to get the percent number, we will divide the amount of acid from the volume.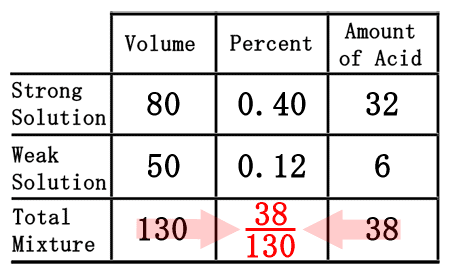 When we divide 38 by 130, we get 0.2923, which rounds to 0.29.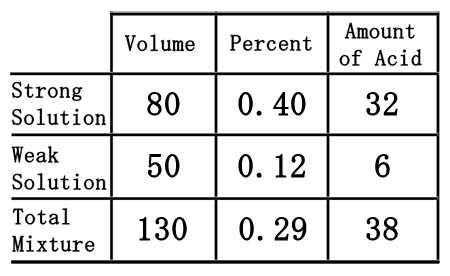 We need to convert the 0.29 to a percent by moving the decimal two places to the right, to get 29%. By reviewing the lowest row of the table, we can now find the solution to our problem. The solution is the total mixure, which states there are 130 liters of 29% HCl.

uizmaster: Chemistry I