Work problems arise from situations revolving around time management. Managers and businessmen solve problems like this one in order to plan or decide if workers are performing at their full potential.
Nancy can paint a fence in 3 hours. It takes Ben 4 hours to do the same job. If they were to work together to paint a fence, how long should it take?
First, we will be organizing information and placing the information within a table. This is the table we will be using.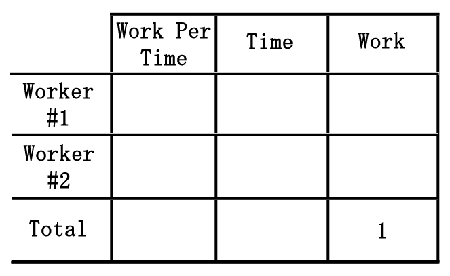 Notice how the table includes a "1" within the bottom row. The "1" stands for the single job that will be completed and it is a standard for all work problems.
Second, we need to start filling the table. Discussed within the work basics section, we will formulate the amount of work they do within one hour. We do this by finding the reciprocals of their work times. For Nancy, the reciprocal of 3 is 1⁄3. For Ben, the reciprocal of 4 is 1⁄4. These new figures will be placed within the "Work Per Time" column.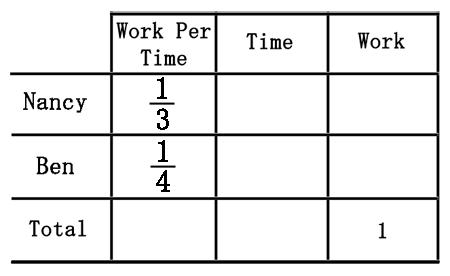 We would like to know how long they need to work together to finish the job. Since they will both begin and end at the same time, they will work for the same amount of time, which is known. So, we will call this unknown "x" and place it within the table.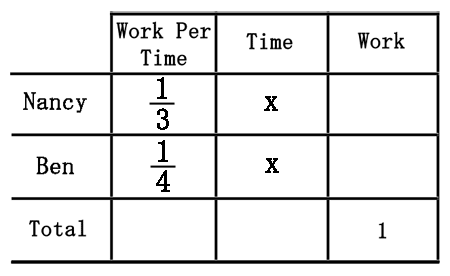 The next step to solving this problem demands that we find values for the last column, "Work." Imagine if Ben worked for 2 hours. We would multiply 1⁄4 times 2 and get 1⁄2, which would mean only 1⁄2 of the job was done. So, if we multiply "Work Per Time" times "Time," we will gain "Work" within our table.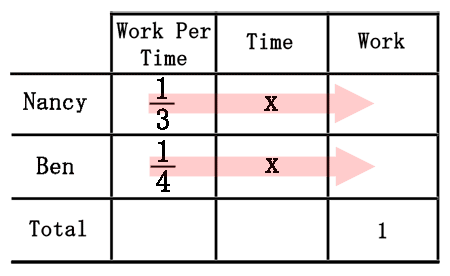 We will multiply across and represent work as algebraic expressions for each row.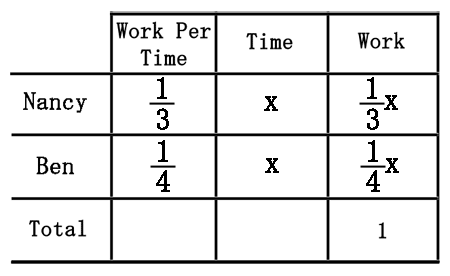 Last, we need to develop an equation to solve this problem. We can get an equation if we think of Nancy and Ben's combined work effort. They are working together to get one problem done. Therefore, the last column holds the equation.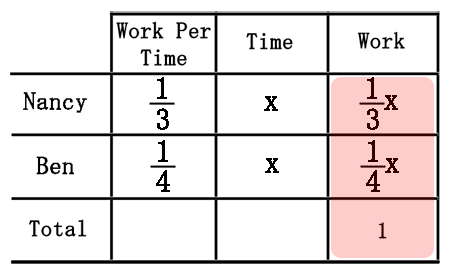 The sum of Nancy and Ben's work must be set equal to "1" for one job.

As was done within the solving simple rational equations section, we will follow the same steps. We will multiply all the terms by "3" and "4" to get...

Continuing on by adding like terms, we get this next equation.

After we divide both sides of the equation by "7," we get this solution once it is rounded to the nearest thousandth.

This means if Nancy and Ben work together, they will take 1.714 hours to do the job. This equates to 1 hour and 0.714(60) minutes or 1 hour and roughly 43 minutes to do the job.

ideo: Basic Work Video


uizmaster: Basic Work Problems