The steps outlined within the last section will be utilized for the two examples below.
Example 1:

Step 1: It informs us to get the absolute value alone. The absolute value is already alone on one side. On to the next step...
Step 2: It tells us to change the inequality to an equality. This gives us the following equation.

Step 3: We are told to make two equations, which is the bifurcation step.

Step 4: We must solve the equations. We can solve the two equations by adding 3 to both sides. These are the critical values that we get.

Step 5: We must plot the critical values. We must use solid points because the original problem partly contains equality.

Step 6: Now we have to test a value that isn't a critical value. Since zero is not a critical value, it is a valid test value. Zero rests between our critical values.

To test this value, replace the 'x' within the original problem to see if it produces a true expression, like so.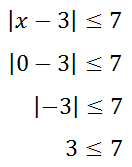 Since 3 is less than 7, our test value of zero produces a true response. Therefore, the interval between -4 and 10 is the interval to be shaded.
Step 7: When we shade intervals, we usually shade either to the left and right of the critical values or we shade in between the critical values. Since the middle interval is a solution. We will shade that section. [Values within the other two intervals can be tested at the reader's leisure. Values within the left and right intervals produce false results.]

Besides a visual representation, we can represent the interval using inequalities. Since the solution is between -4 and 10, we can represent the interval using a compound inequality.

For the next example, the algebra will be shown but accompanied by less of an explanation.


---
Example 2
: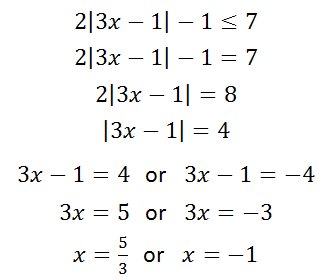 Check the value x = 0.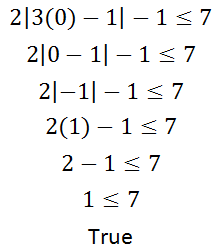 Therefore, this is the inequality that is the solution.

Use the video below to help understand this lesson.

ideo: Solving Absolute Value Inequalities
Use this interactive quiz to determine if you understand the lesson.