Sally has a spinner game. Here are the rules of the game: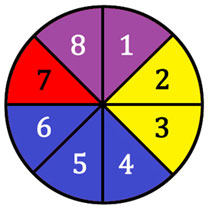 The player pays $2 and spins the spinner. If the spinner lands on purple, the player wins $0.50. If the spinner lands on yellow, the player wins $5. If the spinner lands on blue, the player wins $1. If the spinner lands on red, the player wins nothing.
To determine who this game favors, we must fill an expected values table. This requires us to know a little bit about probability, too.
If all the spaces on the spinner are the same size, which is a safe assumption based upon the spinner presented here, there is a 1 in 8 chance of landing on any one space. We will use that fact to fill the table.
To land on purple, there are two spaces. So, the probability of landing on purple is 2/8. Letís fill in the table with the information for purple. Keep in mind, the expected value (amount the player wins) for purple is $0.50.

The probability of landing on yellow is the same, 2/8, because there are two yellow spaces. Since blue has 3 spaces, the chance to land on blue is 3/8. Finally, the chance to land on red is 1/8 because red occupies only 1 space out of 8 total spaces.
We will fill in the rest of the information into the expected values table.

The table is almost complete. It is incomplete because we have yet to account for one crucial piece of information: the wager. To play this game, we have to wager $2. There is a 100% probability (remember, 100% = 1) of losing this $2. This will be the last entry into the table, like so.

Now that we have our table of values, we are going to multiply values times their respective probabilities, like so.

Once we gain these products, we add them together. Here is the resulting calculation:

Cleaning up the expression gives us this.

So that we can easily combine this expression, transform the -2 into eighths. -2/1 is equal to -16/8.

We now need to add the fractions. Since they are all in eighths, add the numerators.

Next, reduce the fraction.

This means a player will lose 1/4 of a dollar (or 25 cents), on average, every time the game is played. Sure, a player can land on yellow many times in a row. However, over the long haul, a player will lose a quarter per game. If a player plays 100 games, the player would likely lose 100(1/4), or $25, on average.
This example had a long explanation because it was necessary to explain all the details of the process. For the following examples, less steps will be shown.