The y-intercept is an important location within the graphs of exponential functions. To mathematically find them, simply substitute zero for the x-value within the function.
We substitute zero for 'x' because all points on the y-axis have an x-value equal to zero.
For instance, if we needed to locate the y-intercept of the function...

...we would substitute zero for the x-value. Since any number to the zero power is equal to one, we know the y-intercept is (0,1). (See our Power Rules lesson for a refresher on this property.) This is confirmed if we examine the graph of the function (see below).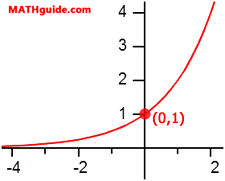 If we examine the general case, we will find the same result. Look at the general form of an exponential function.

If we substitute zero for the x-value, we will find that any number raised to the zero power (except zero) is equal to one. Which means exponential functions of this form always have a y-intercept of (0,1).
Keep in mind, however, that transformations of exponential functions will move the y-intercept.