Now that we have seen several types of transformations, we will now look at a few examples.
Example 1: g(x) = 4x+2 + 1
Let's first determine how this function compares with its parent function, which is...

To graph g(x), we would have to move h(x) 2 units left and 1 unit up.
The number next to the x-value is the horizontal shift and we have to take the opposite to determine the direction of the shift. The +2 really means 2 units left. The +1 is not next to the x-value, which means it is the vertical shift number.
Now, we can sketch the graph of g(x) since we have a general idea of the shape of h(x), which is an exponential growth function.
The asymptote of h(x), which is y = 0, will shift up 1 unit along with g(x). This will make the asymptote of g(x) equal to y = 1.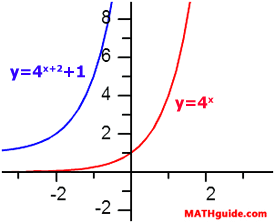 To locate its y-intercept, we need to substitute the value 0 for the x-value, like so.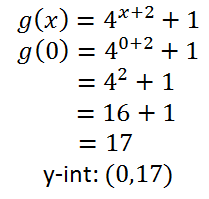 Example 2: k(x) = -2x-1 - 3
This transformation requires reflecting k(x) over the x-axis, moving the curve 1 unit right and 3 units down.
The asymptote must be y = -3, since the curve was moved down 3 units.
The y-intercept can be found as follows.