This is an important question to consider: "What is a percent?" Let us examine the word 'percent.' The word literally means per 100 because cent means 100. So, a percent is a ratio.
For instance, 50% means 50 per 100. But, 50/100 is the same as 1/2. Therefore, 50% is equivalent to a half.
To gain a visual on what 50% looks like, the glass below is at 50% or 1/2 capacity.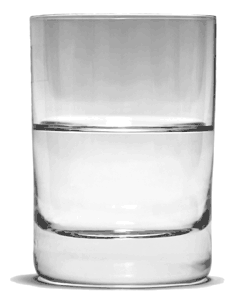 Likewise, 75% means 75/100, which reduces to 3/4. So 75% = 3/4.
Now that you have an idea of what percents mean, we need to look at the word problem portion of percent word problems.