Here is a problem that involves a sports car.
A certain $30,000 sports car is said to depreciate in value at a 5.1% annual rate. How long will it take for the car to drop to $20,000?
First, we need to place the values into the formula. To do this, we have to identify the known information. The a-value is $30,000. The A-value is $20,000. The r-value has to be determined by its percent, 5.1%. 5.1% is 5.1/100 or 0.051.

Notice that a subtraction sign was used because the car is going down in value.
Continuing on, we can clean up the parentheses.

We have to get the base alone, which means we divide both sides of the equation by 30000 to get...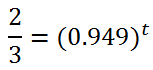 Next, convert this to log-form.

Using a calculator, we get our t-value, which is approximately 7.7 years. That sports car is going to drop a third of its value in slightly more than seven in a half years.

ideo: Calculating Value Over Time: Solving for Time


uiz: Calculating Value Over Time 2