Before continuing on with this section of the lesson, it is extremely important that you understand the unit circle or how to evaluate trigonometric functions at special angles. If you are not familiar with these topics, review the following lessons.

esson: The Unit Circle


esson: Trigonometric Functions of Special Angles
Suppose we wanted to find the exact value of tan(255°). We cannot find this value because it is not a special angle, or can we?
Since 255° is the sum of two special angles on a unit circle, it can be done. 255° can be expressed as 225° + 30°, which means we can use the sum formula to evaluate it.

Using the sum formula, we get...

Now, we can evaluate the expression, like so.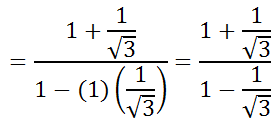 We have to rationalize all fractions that contain a square root. So, we have to multiply those fractions by the square root of 3 over the square root of 3, which is shown below.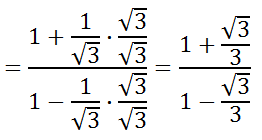 We can also get a common denominator, like this.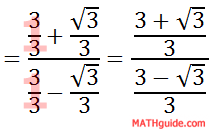 To deal with the complex fraction, change it from division to multiplication, like so.

Continuing on...

Some students may be allowed to stop here. However, the denominator still contains a square root. To eliminate the square root in the denominator, we have to multiply the denominator and the numerator by the conjugate of the denominator.

In doing so, we get this.

We can clean up the numerator and denominator to get...

We can factor the numerator so that we can reduce the fraction.