The complex expression from the last section will be our first target for simplification. We will simplify it to show that it is indeed equal to sec x. In doing so, we will be verifying that this equation is valid, which is called verifying an identity.

We will focus on the left side of the equation because it is the most complicated side. The first step will be to replace the tangent function with sine and cosine using the first quotient formula.

To elicit fraction multiplication, we should view the sine function also as a fraction.

Now, we will multiply the sin x and the fraction next to it.
Keep in mind, (sin x)(sin x)= sin2x. This is the result.

Now, let's use the third step within our strategy list. We need to get a common denominator. The common denominator is cos x. This means we need to multiply the leftmost fraction's numerator and denominator by cos x, like so.



Since there is a common denominator, the two numerators can now be added.

If we take a look at the numerator, we can see it matches the left side of the first Pythagorean Identity.


Substituting, we get this.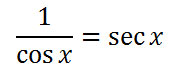 This last fraction can be simplified one more time. Looking at the first inverse relation, we can see that it is equal to sec x.

Since both sides have been found to be equal, this is proof that the original equation is an identity and our work is complete. Here are all eight steps listed in order.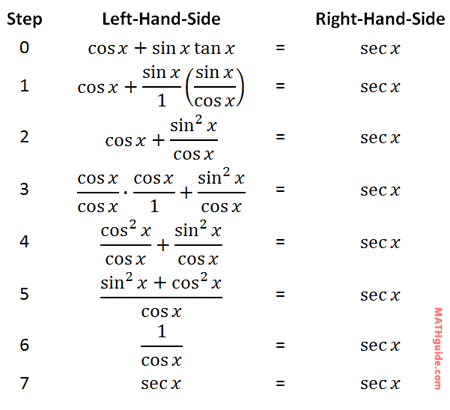 Now that you have read a lesson on simplifying trigonometric expressions, watch these videos and try our interactive quiz.

ideo: Simplifying Trigonometric Expressions


ideo: Simplifying Trigonometric Expressions: Common Denominator


uiz: Simplifying Trigonometric Expressions