Let us examine a ratio of polynomials such that the degree of the numerator is greater than the degree of the denominator.
Again, we know when we are considering large x-values that the value of the polynomial is most influenced by the term that contains the highest degree. So, if we consider the limit of our ratio for large x-values, we get...

We can simplify the new ratio, like so.

Upon inspection of the simplified ratio function, we can see it is linear. If we were to graph the function, we would see that it flows down to the right. This means that the value of the function will continuously decrease as the x-values increase.

Likewise, if we perform the same calculation for small, decreasing x-values, we will get the same simplified ratio. [The work is not shown.]

However, now we are looking at the extreme left-side of the graph of this ratio function. If we examine the graph of the ratio function, the left-side of the linear function continuously goes up as the x-values decrease. This makes our limit...

If we were to examine several cases when the degree of our polynomial in the numerator is larger than the degree of the polynomial in the denominator, we would see something interesting.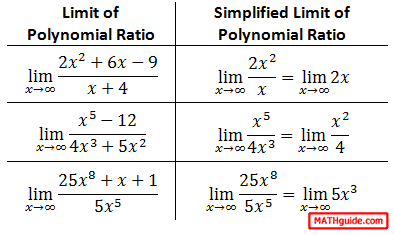 Regardless of the ratio of polynomials we begin with, our simplified ratio results with another polynomial. We know that polynomials have end behavior that is based on their degrees and leading coefficients. [Review our lesson on End Behavior if you do not recall this property of polynomials.]
This means our ratio of polynomials will either approach infinity or negative infinity, depending upon the coefficient and degree of the simplified ratio. Written mathematically, we get this:
Given polynomials f(x) and g(x), if deg(f(x)) > deg(g(x)), then...

To determine if the limit is either positive or negative infinity, we will need to look carefully at the degree and leading coefficient of the polynomial.