In the last section, we saw how to calculate the value of a product given its cost and either its volume or its weight. Now we will examine a case when we mix two substances together and determine the combined unit cost.
Example: A local grocery store mixed 5 pounds of chocolate with 2 pounds of cashews to create their own bars of chocolate. If the chocolate costs $2.50/lb and the cashews cost $6/lb, how much will the new mixture cost per pound?
This problem requires a great deal of organization. To assist in the organization process, we can use this table.

Notice how the columns list weight, cost, and value in that order. This order is helpful because we can multiply weight times cost to obtain value.
We were given four quantities. Let us start to place them inside the table. For instance, placing the costs in their appropriate locations is the first step, like so.

Now, we can place in the 5 pounds of chocolate and the 2 pounds of cashews within their respective locations, like so.

It can be seen that all of our given information is within the table. Now, we will multiply across the table, since weight times cost equals value.

We can also add the quantities within the first and last columns to find the total weight and the total value of the mixture, like so.

Our last step requires one final calculation. Since we are required to calculate the cost of the mixture per pound, we have to manipulate the equation surrounding this relationship. Recall the formula.

If we divide each side by weight to solve for cost, we get these steps.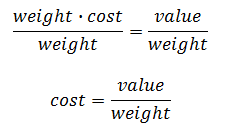 So, we will divide 24.50 by 7 to get the solution.

Would you like to see our instructional video on intermediate mixture problems? Here it is.

ideo: Intermediate Mixture Problem
To determine if you truly understand this lesson and the video, try our quizmaster below.