Here are more difficult problems to consider.
Example 1: Solve for the length.

This formula indicates exactly what to do with the length and width of a rectangle to gain its perimeter.
On the other hand, if we want to get the length -- the letter-l alone -- we have to first get the 2w term to the opposite side of the equation. Since we are adding 2w, the inverse is to subtract 2w from both sides, like so.

Now, to cancel the two that is being multiplied to the l-variable, we need to divide both sides of the equation by two.

This equation now tells us how to use the perimeter of a rectangle given its perimeter and width.
Example 2: Solve for the height.

This equation tells us how to find the surface area of a cylinder using its radius and height. Let's use the equation to solve for h, the height of a cylinder. First, we need to do the distributive property.

Now, we need to get the h-term alone, which means canceling the term with the r-squared. So, we need to subtract that term from both sides.

For our last step, we need to divide both sides of the equation by 2(pi)r to get the h-variable alone, like so.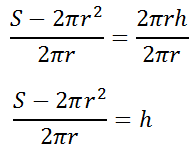 This tells us how to determine the height of a cylinder given its surface area (S) and radius (r).
The following quizmaster contains six moderate level problems. Give it a look to see if you understand how to manipulate literal equations.